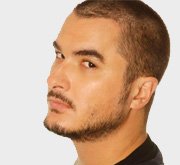 Zane Lowe is a Kiwi BBC Radio 1 presenter and DJ based in the UK with a long spanning career in the music biz. Hosting one of the biggest radio shows in the UK gives him access to the biggest music artists in the world.
Over the years and especially more recently (see Kanye West interview) Lowe has had some very interesting and entertaining one on one interviews with the big players in music. Lowe is quite relaxed but very enthusiastic in his interview approach. He asks great questions which usually creates a great conversation with his interviewee.
These are some of the best Zane Lowe interviews to date:
Kanye West & Zane Lowe
When Zane Lowe organised a quiet interview with Kanye West in the studio, I don't think he quite expected this. West is famous for his public rants, but he really went to town in this hour long explosion of his frustrations and opinions. From West claiming he's the "number one rock star on the planet" to getting frustrated about Fendi ignoring his "leather jogging pants" idea, this interview gets more intense the further you get into it.
I think within the soup of rants Kanye West regularly spills out, there are some really good points. Maybe there is some truth to his self proclaimed creative 'genius' mind; I do admire the man's confidence and aspiration.
Zane Lowe Meets Rick Rubin
Contrasting the Kanye West interview is when Zane Lowe met Rick Rubin. Lowe discusses Rick Rubin's eclectic and very long music producing career in the quiet gardens of his Shangri-la studio. Rubin covers his work with a long lists of artists including Beastie Boys, Slayer, Slipknot, Johnny Cash, Kanye West and the Red Hot Chili Peppers – this one is for the musicians and music fiends.
Gary Barlow and Zane Lowe
This one on one discussion with the lead singer/songwriter of British boy band Take That, is full of gems. If you haven't heard of Take That you must have missed the 90's. They were a hugely successful boy band which also served as a catalyst to Robbie Williams' career and stardom. Barlow sits in front of a keyboard at Abbey Road studios and discusses his career, life in Take That and gives songwriting advice. This is another video for the musicians, music fiends and Take That fans; but still a very inspiring watch for everyone.
Chris Martin & Zane Lowe
In this personal, intimate discussion Lowe goes through the writing process and some of the tracks off Coldplay's 'Ghost Stories' album. There are some really great moments in this interview with insights into Martin's life: the ups and downs, his love of music and what it's like to be in one of the biggest bands in the wold. While this an interesting interview, I wouldn't recommend watching it after the high energy Kanye West interview or if you have a distaste for Coldplay.